The 9 Best Value Wine Clubs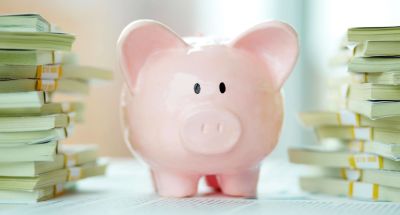 Last updated: October 8, 2019
Please note: if you join or give a wine club after clicking our links we might earn a commission.
There's a persistent rumor among wine critics that wine clubs ship "bulk wine" made from inferior grapes with inferior winemaking techniques. We've reviewed several hundred wine club shipments from dozens of companies and we find that's actually very rarely the case (and we let you know when it is).

We define the best wine club values as those which deliver wine priced significantly below retail (for any level of wine) or wines that seem underpriced, whether it's because of their wine region, their winemaking, or their actual taste. We consider the quality-to-price ratio of every wine we received, and that's what fuels the decision to put a wine club on this list.

When you really want to push for more value, look carefully at the pricing structure of the club you want. Many wine clubs give you better and better prices (for the same wine) when you're a volume buyer. For a wine club, volume-buying might be 12-bottle shipments (get them quarterly if that's too much every month) or smaller shipments but pre-paid for a high number of months (6 or more usually breaks into discount territory). In addition to saving on wine on volume, the shipments can be delivered for less per bottle when they're larger, so larger shipments save on delivery fees, too.

This list focused specifically on value and not on affordability. Our Best Affordable Wine Clubs list is very popular and focuses on wine delivered under $15 per bottle, but this page is designed for people who want to get great value out of their wine budget while drinking what the industry called "ultra premium" wines. (Learn more about this industry term here).
The Best Value Wine of the Month Clubs
Our research highlights these 9 wine clubs as the best value wine clubs to join in 2020
For You Save $100 on your first 6-bottle case, just $49.99. Shipping included. Voucher code is already entered. Click for This Deal.
Naked Wines isn't really a wine club the way you think of one, but it's a personalized wine buying service that you pay into on a monthly subscription so… we treat it like one. It also happens to be the most interesting wine club we've come across in a while.
The list of things we love about Naked Wines is long, but here are some of our favorite bits: the wines we tried were excellent and priced exceptionally well; the winemakers interact with commenters on a regular basis; you can make this wine club anything you want it to be.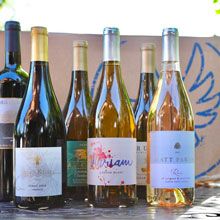 Among all of the case clubs (12 bottles, typically shipped quarterly), this 90+ International wine club is among the best two deals. The other focuses only on California wine, but this one takes you on a journey around the world. Enjoy eclectic wines at the best prices you'll find.
It's so easy to get into a wine rut and stick with what you know. Wired For Wine ® helps you break out of that rut in a low-cost, satisfaction guaranteed way so you can find new wines to love. Also, when compared with similarly-priced case clubs, this one stands out for wine quality in a big way.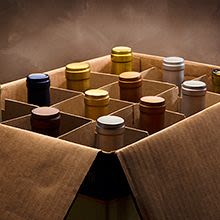 Exclusive Deal For You Join today and save $25 on your first Winc box. Free shipping on orders of 4 or more bottles. Click for This Deal.
Winc set out to change the wine industry by finding new ways to get better value to wine drinkers who spend less than $15 a bottle — and they're succeeding. By delivering a broad range of wine which appeals to every palate, Winc is a standout wine of the month club.
We love how they go above and beyond to reward loyal customers with substantial savings and invitations to a premium level program. No other wine club offers this level of loyalty rewards, or this much fun! Also, as time has passed under wine director Ryan Zotovich, the selection of premium wines has both grown in selection and quality.
When you give a Winc subscription, you are giving wine credits which can be redeemed by your favorite wine lover. They'll then set up their own account so Winc's personalization engine can get to work on learning what they love. Opt for a fancy gift announcement on the big day for a little extra dough.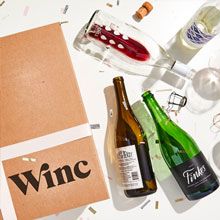 by The California Wine Club
Among all of the case clubs (12 bottles, typically shipped quarterly), this California wine club offering selections from boutique wineries is one of the two best deals. The other club delivers 90+ point wine from around the world.
We asked The California Wine Club for a case club deal and they made one! And now you get to save a TON of money on their already affordable Premier Series wines.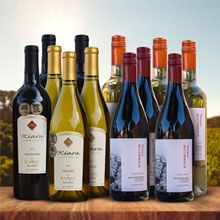 A surprisingly high-quality affordable wine club offering a comprehensive range of wine regions, grape varieties, and wine styles. 90+ Cellars is a modern-day négociant, sourcing wine at all different stages of production to produce wine at very low prices.
We've been fans of the Ninety Plus brand since we started working in the wine business. We especially love the affordable pricing, which allows wine shoppers on a budget to explore premium wine regions and the grapes they're known for.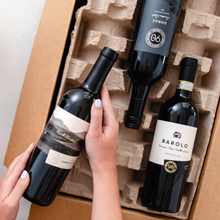 For You Join today and save $40 on your first personalized shipment of wine. Shipping is included. Click for This Deal.
An affordably-priced personalized wine club that learns what you like as you receive, drink, and rate six bottle shipments. International, domestic, and award-winning wine from a thoroughly modern wine subscription box service.
Compared with other wine subscriptions in this price category, we think Firstleaf has nailed ease-of-use, presentation, and offers reasonably-interesting wines. We also really like that they identify the body, acidity, sweetness, fruitiness, and tannin level for each wine they sell. You can review the wine before it is shipped and swap out wines that have characteristics you don't like.
Since Firstleaf is a personalized wine subscription, gifts are given as electronic gift cards. This gives the recipient the chance to customize the wine selection, as they're meant to do. Gift cards are issued in denominations of $25-200. We recommend at least $100 to make sure he or she doesn't have to pay for any part of the first box.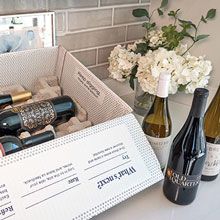 Exclusive Deal For Gifts Give a wine club gift of 3 months or longer and get a bonus bottle of wine, a free artist-designed gift box, free gift bags, and a free printed gift notice. Click for This Deal.
California is home to some of the world's best wine regions and wineries, many of which are boutique wineries. A boutique winery is typically a small-family operation with limited distribution beyond their tasting room. This wine of the month club is a great way to get introduced to what California wine has to offer at reasonable prices and it makes an excellent gift.
Consistency. We've been receiving their shipments for years and we've never had a wine we didn't like. You can't really ask for more than that from a wine club.
Gold Medal always offers beautiful gift packaging, but you usually need to order a whole year's worth of wine to get it free. Our readers get an exclusive deal on their premium gift package, included with any Gold Series gift of 3-months or longer. Your wine lover will also get a bonus bottle of red wine in their first shipment.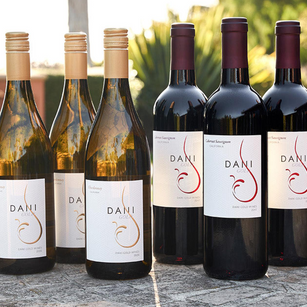 For You & For Gifts Save $10 on any order and get a free double-hinged corkscrew with your first shipment. Use code NEWMEMBER at checkout.
The Plonk wine club has always been among our favorites because of the proprietor's preference for quirky but delectable wines. Etty Lewensztain sources interesting wines made from grapes and regions you've never heard of (and some you have). Whether you choose four or twelve bottles you'll be glad you picked Plonk.
Lately we've come to think of Plonk as the "Somm club" that isn't run by a sommelier. With a focus on wines under $30 that will delight any curious wine drinker, we think the value is top notch. Also, unlike most wine clubs, if you're thinking of going red-only or white-only, you'll actually get four different selections (three of each if you upgrade to 12 bottles).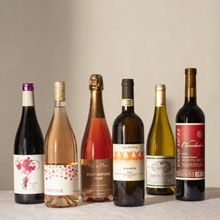 The Adventurer's Wine Box implies you never know what you're going to get, but you can bet since it's coming from Vinley Market it's probably going to be pretty good. Great wine value delivered monthly.
They don't make a big deal out of it, but the wines selected for this subscription are handpicked by a sommelier who loves the taste and the value of every bottle. And it shows.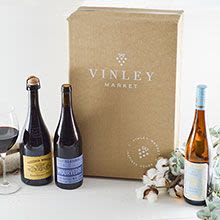 They're sorted by rating, from highest to lowest. If you didn't find what you were looking for in the list above, you might find it here.
| Wine Clubs | Description | Price & Delivery |
| --- | --- | --- |
See all of our wine club reviews