The 10 Best International Wine Clubs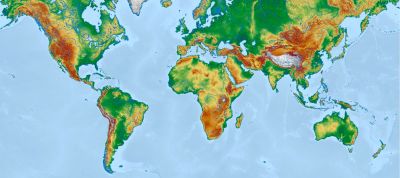 Last updated: October 8, 2019
Please note: if you join or give a wine club after clicking our links we might earn a commission.
In wine, what you like is always the best wine to buy.
For wine lovers who prefer the juice that is produced overseas, an International wine club is the best way to discover new wine regions and styles in a low-risk way (most come with a satisfaction guarantee).
The wine clubs we've picked as the best International wine of the month clubs not only showcase high-quality International wines, they're also great wine clubs offering terrific value, and usually great gift options.
Some of these monthly wine clubs focus on one region in each shipment, others just send a selection of two (or more) great bottles of wine from different wine regions.
One thing to keep in mind, these aren't specifically "European" wine clubs and you shouldn't expect just France, Italy, and Spain. Wonderful wines are coming out of Australia, New Zealand, South Africa, and South American countries like Chile and Argentina.
The Best International Wine of the Month Clubs
Our research highlights these 10 wine clubs as the best international wine clubs to join in 2020
For You Save $100 on your first 6-bottle case, just $49.99. Shipping included. Voucher code is already entered. Click for This Deal.
Naked Wines isn't really a wine club the way you think of one, but it's a personalized wine buying service that you pay into on a monthly subscription so… we treat it like one. It also happens to be the most interesting wine club we've come across in a while.
The list of things we love about Naked Wines is long, but here are some of our favorite bits: the wines we tried were excellent and priced exceptionally well; the winemakers interact with commenters on a regular basis; you can make this wine club anything you want it to be.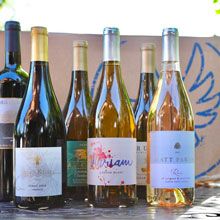 by The California Wine Club
Exclusive Deal For You Save 50% on your first shipment. Until Sep 30. Use code WCRHALF at checkout.
For Gifts Give a wine club gift of 3 months or longer and save 15%. Until Sep 30. Use code TREAT15 at checkout or Click for This Deal.
This wine subscription focuses on high-end, limited-production wines from small family wineries outside the US. It is perfect to give as a gift or to join yourself.
They only work with small family wineries, so nearly every wine they ship typically wouldn't be distributed inside the US.
The International Series is the perfect wine gift splurge for a wine lover who likes to explore new wines. For an extra $18 you order a pre-wine gift package announcing the gift. Send it to yourself to present in person on the big day or send it directly to your wine lover so they know the wine is coming.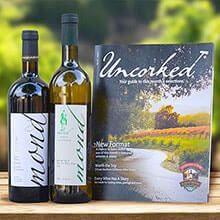 by International Wine of the Month Club
For Gifts Save $10 when you give a 4-month wine club gift. Use code SAVE10 at checkout.
For Gifts Save $15 when you give a 6-month wine club gift. Use code SAVE15 at checkout.
For Gifts Save $30 when you give a year of wine gift. Use code SAVE30 at checkout.
This is the entry-level wine club from the International Wine of the Month Club, but unlike some other wine clubs in this price range you'll always receive Estate-bottled wines. Also for a wine club in this price range you get excellent tasting notes and winery information for every wine that's shipped.
Unlike some other wine clubs which focus on acquiring closeout wines to ship to their members, this wine club cares a great deal about coming up with consistent selections befitting their reputation of 25 years in the business. Their tasting panel includes proprietor Kris Calef, wine professionals, and everyday wine drinkers, so they excel at finding palate-friendly wines with wide appeal.
Wine club gifting is an area that this company excels at. They give you the most options of any two-bottle wine club, from when you pay for each shipment, to all of the standard customizations, gift notice options, etc. The first shipment of all gifts includes organza-wrapped bottles for an extra touch.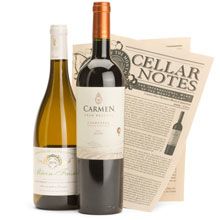 This international wine of the month club is delivered quarterly and features wineries you can't buy from any other company in the U.S. Each shipment features a new winery and wine region.
Whether you choose just the wine or you upgrade to include the regional gourmet treats with the Adventure Package, this quarterly wine club will take you on your own wine-drinking adventure around the world. Extensive regional and winery information goes out with each shipment, chock full of photos that help you feel like you've gone wine tasting in a far away land.
With elegant gift packaging as an upgrade option, you can make any wine subscription gift really stand out. Send a personalized greeting card ahead or ship it to yourself to present on the big day. When the wine arrives, the first shipment's bottles are wrapped in organza and presented in a beautiful artist-designed gift box.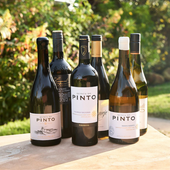 Among all of the case clubs (12 bottles, typically shipped quarterly), this 90+ International wine club is among the best two deals. The other focuses only on California wine, but this one takes you on a journey around the world. Enjoy eclectic wines at the best prices you'll find.
It's so easy to get into a wine rut and stick with what you know. Wired For Wine ® helps you break out of that rut in a low-cost, satisfaction guaranteed way so you can find new wines to love. Also, when compared with similarly-priced case clubs, this one stands out for wine quality in a big way.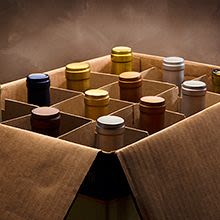 A rare French wine club featuring affordable selections from a variety of wine regions within France. They tend to work with smaller producers offering either exceptional value or something unusual.
Everything you want in a wine club, especially if you love French wine. Their wine program is created by a multi-generational wine family from Bordeaux with great connections and taste in wine. Unlike some other specialty wine clubs, this one is priced perfectly.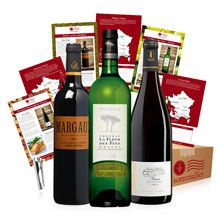 One-of-a-kind wine tasting club which delivers wine by the glass instead of in full size bottles so you can taste your way through sommelier-selected grown up juice. Reorder full bottles or more glasses of what you love. Now delivered quarterly.
We especially love that sommelier Tyler Kennedy picks the wine — and it shows. We've been super impressed with the quality of each wine we've received. The unusual selection genuinely seems like a somm picked the wines. We also love the pricing which rewards bigger customers.
This is, by far, our favorite wine club gift for adventurous drinkers, light drinkers, and even wine professionals. In addition to a top-notch sommelier-curated wine selection, the packaging is novel and fun, and really well-constructed. Save big with longer subscriptions and when you double the order for two people to enjoy.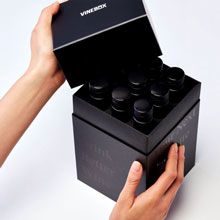 For You Join today and save $40 on your first personalized shipment of wine. Shipping is included. Click for This Deal.
An affordably-priced personalized wine club that learns what you like as you receive, drink, and rate six bottle shipments. International, domestic, and award-winning wine from a thoroughly modern wine subscription box service.
Compared with other wine subscriptions in this price category, we think Firstleaf has nailed ease-of-use, presentation, and offers reasonably-interesting wines. We also really like that they identify the body, acidity, sweetness, fruitiness, and tannin level for each wine they sell. You can review the wine before it is shipped and swap out wines that have characteristics you don't like.
Since Firstleaf is a personalized wine subscription, gifts are given as electronic gift cards. This gives the recipient the chance to customize the wine selection, as they're meant to do. Gift cards are issued in denominations of $25-200. We recommend at least $100 to make sure he or she doesn't have to pay for any part of the first box.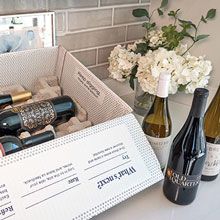 For You Join today and save $120 on your first shipment (six wines are only $9.75 each) PLUS get two bonus bottles of a Russian River Valley Pinot Noir ($50 value). Click for This Deal.
Each shipment of this wine club includes a selection of wine from a single wine region. Sometimes that region is defined narrowly, like Southern France, and sometimes it's more broad, like South America.
This is a fun way to discover wine regions around the world in an affordable way. Vinesse's wine tasting notes all include cellaring information, which we find lacking in most other subscriptions' educational materials.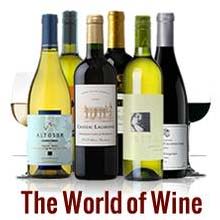 A surprisingly high-quality affordable wine club offering a comprehensive range of wine regions, grape varieties, and wine styles. 90+ Cellars is a modern-day négociant, sourcing wine at all different stages of production to produce wine at very low prices.
We've been fans of the Ninety Plus brand since we started working in the wine business. We especially love the affordable pricing, which allows wine shoppers on a budget to explore premium wine regions and the grapes they're known for.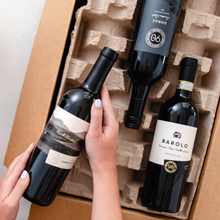 They're sorted by rating, from highest to lowest. If you didn't find what you were looking for in the list above, you might find it here.
| Wine Clubs | Description | Price & Delivery |
| --- | --- | --- |
See all of our wine club reviews